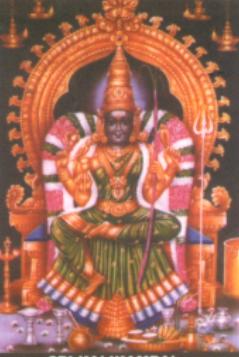 The gods could not kill the demon Raktabija. Every drop of his blood that touched the ground transformed itself into another Raktabija. Within a few minutes of striking this asura with their weapons, the gods would find the entire battlefield covered with millions of Raktabija clones. In despair, the gods turned to Shiva. As Shiva was lost in meditation, they turned to his consort Parvati.

The goddess immediately set out to do battle with this dreaded demon in the form of Kali. Her eyes were red; her complexion was dark, her features gaunt, her hair unbound, and her teeth sharp like fangs. As she rode into the battleground on her lion, Raktabija experienced fear for the first time in his demonic heart. Kali ordered the gods to attack Raktabija. She then spread her tongue to cover the battlefield preventing even a single drop of Raktabija's blood from falling on the group. Thus, she prevented Raktabija from reproducing himself.

Drunk on Raktabija's blood, Kali ran across the cosmos killing anyone who dared cross her path. She adorned herself with the heads, limbs and entrails of her victim. To pacify her, Shiva threw himself under her feet. This stopped the goddess. She calmed down, embraced her husband, shed her ferocious form to became Gauri, radiant mother.
Disclaimer: EPrarthana.com is not responsible for accuracy of any information on this page. All data & images were collected from different sources like books, webpages and visitor comments/contributions. Feel free to indicate corrections or suggestions if any.