Deity Name : Agni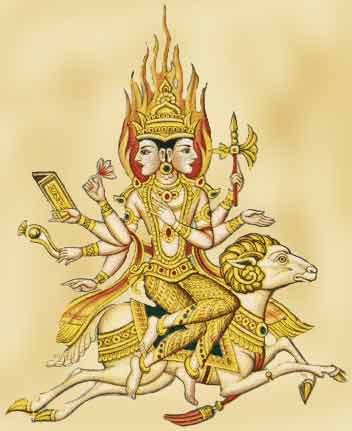 Agni is the god of fire. He is held to be one of the mightiest gods in general, including the force that drives away the demons of the dark. He is also a guest, the lord of the home, and friendly to man. Agni is held to be next to god Indra, his twin brother at times.

Agni (Fire) is also held to be the messenger of the gods, and also one who brings the gods. He is either golden or red, with one or more burning heads, and faces in all directions - and with all-seeing eyes. Like Indra he is portrayed carrying a bow and arrows. He is often likened to the bull; the sun, a car (chariot) loaded with riches, or to inherited wealth and affluence. Also, the ram is another animal associated with him - he rides it - and the sacrifice to (one's inner) Fire has been termed the most important ritual for the last several thousand years.
Disclaimer: EPrarthana.com is not responsible for accuracy of any information on this page. All data & images were collected from different sources like books, webpages and visitor comments/contributions. Feel free to indicate corrections or suggestions if any.