Deity Name : Kubera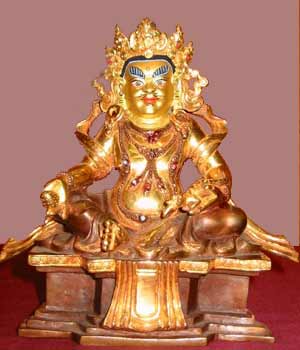 Kubera (also Kuvera or Kuber) is the god of wealth and the lord of Uttaradisha in Hindu mythology. He is also known as Dhanapati, the lord of riches. He is one of the Guardians of the directions, representing the north.

Kubera is also the son of Sage Vishrava (hence also called Vaisravana), and in this respect, he is also the elder brother of the Lord of Lanka, Ravana.

He is said to have performed austerities for a thousand years, in reward for which Brahma, the Creator, gave him immortality and made him god of wealth, guardian of all the treasures of the earth, which he was to give out to whom they were destined.

When Brahma appointed him God of Riches, he gave him Lanka (Ceylon) as his capital, and presented him, with the vehicle pushpaka, which was of immense size and 'moved at the owner's will at marvellous speed'. When Ravana captured Lanka, Kubera moved to his city of Alaka, in the Himalaya.

Kubera also credited money to Venkateshwara or Vishnu for his marriage with Padmavati. Thats the reason devotees / people when they go to Tirupati donate money in Venkateshwara's Hundi so that he can pay back to Kubera. According to the Vishnupuran this process will go on till the end of Kali yuga.

Disclaimer: EPrarthana.com is not responsible for accuracy of any information on this page. All data & images were collected from different sources like books, webpages and visitor comments/contributions. Feel free to indicate corrections or suggestions if any.